Wilde Design Fair (10th – 12 Dec'15)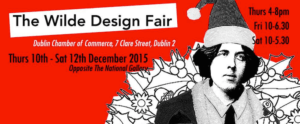 Heather Finn Knitwear will be at the Wilde Design Fair 10th – 12th Dec'15 in The Dublin Chamber of Commerce, 7 Clare St, opposite the National Gallery (new wing).
(Click image to enlarge)
Join the best and brightest of modern Irish craft and design on either the opening night (Thurs 10th of Dec) for 10% off all stock plus mulled wine! Or pop along on Friday or Saturday (all day) to purchase some of the best handcrafted Irish design… I hope to see you there!
(For more info: https://www.facebook.com/WildeDesignFair/)